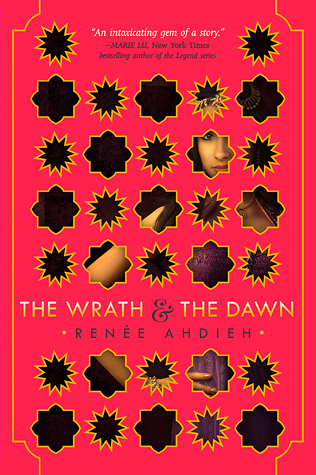 T i t l e :
The Wrath & the Dawn
A u t h o r :
Renee Adieh
S e r i e s :
The Wrath and the Dawn, #1
G e n r e :
YA - Fantasy, Retellings
F o r m a t :
Kindle eBook
S o u r c e :
Purchased @ Amazon
p u b l i s h e d :
May 12, 2015
P u b l i s h e r :
G.P. Putnam's Sons Books for Young Readers
P a g e s :
416
Every dawn brings horror to a different family in a land ruled by a killer. Khalid, the eighteen-year-old Caliph of Khorasan, takes a new bride each night only to have her executed at sunrise. So it is a suspicious surprise when sixteen-year-old Shahrzad volunteers to marry Khalid. But she does so with a clever plan to stay alive and exact revenge on the Caliph for the murder of her best friend and countless other girls. Shazi's wit and will, indeed, get her through to the dawn that no others have seen, but with a catch . . . she's falling in love with the very boy who killed her dearest friend.

She discovers that the murderous boy-king is not all that he seems and neither are the deaths of so many girls. Shazi is determined to uncover the reason for the murders and to break the cycle once and for all."




It just dawned on me how funny it is that Jen and I decided on this series as our next buddy read after the epic fail that was the
Shatter Me
series. Another book with another silly girl falling for another murderous lunatic she thought she despised. Except . . . except this time it was done
well
.
As you probably know already,
The Wrath & the Dawn
is a retelling of
One Thousand and One Nights
(you know--that classic collection of stories which inspired Disney's
Aladdin
) and begins with our hero, Shahrzad, having just volunteered herself to be the Caliph's (the king) next bride. Not for love or greed or vanity, but for
revenge
.
In this land, the Caliph, Khalid, takes a new bride every day to replace the one who was murdered the previous. Nobody knows why this happens and nobody has yet been strong or cunning enough to bring an end to this neverending bloodshed by taking him down, but Shahrzad has a plan. She will not allow the death of her best friend, Shiva, to go unpunished as long as she is capable of doing anything about it.
On the night of their wedding, Khalid comes to Shahrzad's room. While he's there, she admits that she is known to be a good storyteller. She tells him that if he will listen to a story, then she will gladly go to her death once she is finished. Before long the dawn comes, Shahrzad is alive, and her story is yet to be finished. The Caliph has been bested for the first time and now neither one knows what to make of their unprecedented situation. He's left wondering who this enigma of a girl is as he finds himself enchanted by her, while she is trying to figure out where the monster lies beneath this serious and protected exterior--each one sizing up their enemy and calculating their next move.
"I could see her daring a cobra to strike, swearing her venom would kill first."
Adieh weaves suspense like a true master. Her style is subtle yet oh-so-effective. Right from the get-go, the prologue gently hints at a need for these daily executions, though it's vague and a bit blurry around the edges as to exactly what that need is. You're just left knowing that the killing is necessary for the good of the entire kingdom, and that's somehow enough to keep the reader feeling torn between wanting Shahrzad to succeed in her revenge plot and rooting for the intriguing love story which is slowly unfolding as the days creep onward.
Additionally, the book itself reads so beautifully. Even if you aren't familiar with the original story, you know right away that you're reading a fairytale from the sweeping imagery to the dusting of magic that graces these pages. It's such a captivating tale that you want to slow down and enjoy it though the suspense keeps the pages turning until suddenly it's over and you're left wanting more.
"Revenge will never replace what I have lost. What you have lost. All we have is now. And our promise to make it better."
The only thing that's really keeping me from giving this book a full five stars is the frustration I felt whenever the book panned away from Shahrzad and Khalid. I just couldn't bring myself to care about her family or ex-lover whenever they stepped into the scene. Of course, I understand why they had to be there--and it did eventually help to build suspense--but their moments just fell a little flat for me.
Something about those parts just felt underdeveloped; I wish there was a little more
something
there that would've helped hold my attention a bit better. Instead, I just felt like I was rushing through those scenes so I could get back to the
good parts
.
And, boy, were those good parts ever satisfying. Shahrzad is such an incredibly strong female character. She's witty, skilled with a weapon, and always seems to keep one step ahead in this twisted game of survival. And then there's Khalid . . . /swoon. Wait--what has this book done to me? I don't
swoon
! Well, we'll just make an exception for this one time.
"Some things exist in our lives for but a brief moment. And we must let them go on to light another sky."
Beside that one little thing, I have little else to complain about when it comes this work of beauty. Like Khalid, I am totally hooked and can't wait to see what Shahrzad has up her sleeve for the sequel,
The Rose & the Dagger
. Here's hoping that I only fall deeper in love with this story--though, let's be honest: I probably don't have much to worry about.
the book depository
|
amazon
|
goodreads
---
Guess That Character is a game Jen @ The Book-Nook and I will be playing as part of our buddy reading shenanigans. For each collaborative review or post we write, we will be presenting one another with three clues which correspond with any character from a popular YA book or series. Best out of three rounds will earn bragging rights!

Anyone may feel free to participate in this little game of ours down in the comments. It's just for fun, after all. To see Jen's clues for me, don't forget to head on over to her blog!



2. My beloved daughter, Anna, is dead.
3. You can find my (fake) book on Goodreads. Don't get excited: It isn't "complete" in your world either.