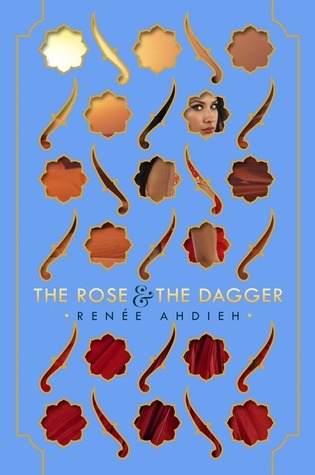 T i t l e :
The Rose & the Dagger
A u t h o r :
Renee Adieh
S E R I E S :
The Wrath & the Dawn, #2
G e n r e :
YA - Fantasy, Retelling
F o r m a t :
Kindle e-book
S o u r c e :
OverDrive
p u b l i s h e d :
April 26, 2016
P u b l i s h e r :
G.P. Putnam's Sons Books for Young Readers
P a g e s :
420
In a land on the brink of war, Shahrzad has been torn from the love of her husband Khalid, the Caliph of Khorasan. She once believed him a monster, but his secrets revealed a man tormented by guilt and a powerful curse—one that might keep them apart forever. Reunited with her family, who have taken refuge with enemies of Khalid, and Tariq, her childhood sweetheart, she should be happy. But Tariq now commands forces set on destroying Khalid's empire. Shahrzad is almost a prisoner caught between loyalties to people she loves. But she refuses to be a pawn and devises a plan.

While her father, Jahandar, continues to play with magical forces he doesn't yet understand, Shahrzad tries to uncover powers that may lie dormant within her. With the help of a tattered old carpet and a tempestuous but sage young man, Shahrzad will attempt to break the curse and reunite with her one true love."




Click
HERE
for my review of the previous book,
The Wrath & the Dawn
.
I have a bit of a love/hate relationship with sequels from time to time. Sometimes I find in a sequel that perfect conclusion I was hoping for all along, and other times the ending to a series just falls short of my expectations and leaves me wanting more. And this time? Well, I guess I'd have to say
The Rose & the Dagger
fell somewhere in between.
It took me a decent amount of time to really get into this sequel - about 35% or so (which is much longer than I'm used to for sequels to books I already loved) - to the point where I was afraid that I was only dragging my feet through it just to end up in a dreaded reading slump by the end. But, luckily, the action in this book did pick up quite a bit and, before I knew it, I was finishing this book in tears.
"Your future is not set in stone, my dearest star. A coin turns on itself a number of times before it lands."
As is expected, this sequel exhibited many of the same lovely qualities as the first one. The writing was magical and atmospheric just as before, the suspenseful twists and gripping action kept me turning the pages as quickly as I could, and I couldn't help the attachment I felt toward these characters if I ever would have cared to try. That all sounds alright, doesn't it? Why so lukewarm, then?
Again, my IRL situation while reading this book may have interfered with my enjoyment. I've been so busy with way too many projects lately that reading has unfortunately taken to the back-burner. Because of this, I was reading this book in super small chunks while a thousand other worries and distractions were swarming my brain from all directions. This normally doesn't disrupt my reading too badly, but in the case of a highly atmospheric and immersive story such as
The Rose & the Dagger
it's distracting enough to majorly dampen my enjoyment.
Just like in the previous book, this one has several vague scenes that felt like pointless filler woven throughout the beginning that just ended up being forgettable by the end. It also didn't help that the beginning of this book had far less going on than the beginning of the previous. There was just Shahrzad being sad that she was without Khalid, and then there was Khalid feeling guilty about the destruction of his city. The total lack of forward progression in these two scenes just seemed to last
forever
. Pair that with no conflict, no drama, nothing . . . I have to admit that it lost me for a while there.
"It was never about belonging to someone. It was about belonging together."
Thank goodness this book did actually pick up before too long. It's one of those books you just have to stick with. Once a plan was concocted to save the city and reunite Shahrzad with Khalid, it was smooth sailing from there on out. Maybe even a bit
too
smooth for my taste, but now I might really be nitpicking. It just seemed like there was an almost annoyingly repetitive pattern of conflict / solution that felt too easy for the characters to solve. There's meant to be a war at one point that's hyped up for a good portion of the book, but then we only really get one brief battle. I think another 20 to 30 pages could've really polished this book off quite nicely. But, oh well, this is what we've got.
Nitpicking aside: When I step back from this book, I realize that I did like far more than I disliked. The characters feel well-developed even if we see some of them only for a short period of time here and there, the love story between Khalid and Shahrzad even gave my cold, dead heart a flutter, and the feminist themes absolutely blew me away. For a dusty, crumbly old city full of people living in a fantastical yet poverty-stricken world, I was delighted as all hell to see so many strong female characters
as well as
strong male characters who fully accepted them and their right to be whatever stubborn, abrasive, smart-mouthed, and driven people they were. Yes, I need more of this, please!
r e c o m m e n d a t i o n
Overall, I'm beyond happy to have read this duology. I've recently taken a break from epic fantasy worlds to instead focus on books set in the real world, but these books have helped me realize that fantasy can come in a variety of landscapes. Having read very little in the way of books inspired by Middle Eastern culture in general, this series also helped me realize that I ought to give more of these a try. However, next time I'm going to save books like this for when I have the time (and a worry-free mind) to get completely lost in a story.
These books would be great for any
feminist fantasy-lover
, who also enjoys a
descriptive and atmospheric
fairytale-esque read. Also, if you really enjoy
unconventional and quick-witted characters
, I can't recommend this enough (you will absolutely love Despina!). Oh, yeah, and that whole
love story
thing. It'll give you all the warm fuzzies, I promise.
This time I don't really have an anti-recommendation to counter my previous recommendation, but I do advise that you try to make time for these books if and when you read them. If you
can't fully commit
yourself to these, then wait on picking them up. They're worth (and require) your full attention.
the book depository
|
amazon
|
goodreads
---
T R A C K L I S T
1. Castle by Halsey
2. Jar of Hearts by Hero Appeal
3. Dead Inside by Muse
4. Beauty and the Beast by Jonathan Young
5. Pompeii by Bastille
6. Runaway by Hail the Villain
7. No Giving Up by Crossfade
8. Just Like Fire by P!nk
9. You're Going Down by Sick Puppies
10. We Found Love by Forever the Sickest Kids
---
Guess That Character is a game Jen @ The Book-Nook and I are playing as part of our buddy reading shenanigans. For each collaborative review or post we write, we will be presenting one another with three clues which correspond with any character from a popular YA book or series we've both read. Best out of three rounds will earn bragging rights!
Anyone may feel free to participate in this little game of ours down in the comments. It's just for fun, after all. To see Jen's clues for me, don't forget to head on over to her blog!
Teresa from The Maze Runner by James Dashner | CLUES
1. Some may call me egotistical, but I prefer 'Captain'.
2. Did I ever tell you about the time I deserted the military and stole a ship?
3. Believe it or not, the meaning of my name matches my partner's.